Details On New Album "Kingdom Of The Night II" Released By Axxis
German traditional metal act Axxis will release the new album "Kingdom of the Night II" via Phonotraxx Publishing (distributed by Soulfood) on February 28th. The double length album will come in a "white" and "dark" combination - which the band will show off its rockin' roots as well as the heavier more power metal direction of recent albums. The release is a sequel to the 1989 debut album "Kingdom of the Night."
Facts about the release and its various versions are:
CD 1 - Black Edition CD includes heavier and darker songs.
CD 2 - White Edition CD includes ballads and more quiet songs.
Will be released in the following formats:
- Digital download
- Black Edition or White Edition - single digibook CD
- LP (double vinyl including Black and White Edition)
- Super deluxe box (including Black & White Edition, metal pin, patch, sticker)
The super deluxe box edition includes a bonus CD with the following tracks:
1. Songs of the Damned
2. Legions of the Damned
The track listing is:
Black Edition:
1. The Kingdom Arises
2. Kingdom of the Night II
3. Venom
4. Beyond the Sky
5. The War
6. Never Again
7. Soulfire
8. More than for One Day
9. Lass Dich gehn
10. Lie After Lie
11. Mary Married a Monster (Our Version)
12. Bites Inside
White Edition:
1. Hall of Fame
2. Heaven in Paradise
3. Living in a Dream
4. 21 Crosses
5. My Eyes
6. Dance Into Life
7. Mary Married a Monster (Her Version)
8. We Are the World
9. Take Me Far Away
10. Gone With the Wind
11. Temple of Rock
12. Save My World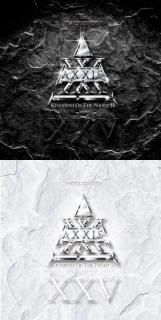 Check out a preview clip of the release here:
What's Next?
Please share this article if you found it interesting.
---
0 Comments on "Axxis Details 'Kingdom Of The Night II'"
Be the first to comment! Tell us what you think. (no login required)
To minimize comment spam/abuse, you cannot post comments on articles over a month old. Please check the sidebar to the right or the related band pages for recent related news articles.