Lord Mantis Unveils New Album "Death Mask"
Profound Lore Records is planning for the label's introductory release from Chicago's anti-life quartet, Lord Mantis, today officially dispatching the full details on the band's rancid new audio virulence, "Death Mask."
The cover art for "Death Mask," from the warped visualization of tattooist/musician Jef Whitehead (Leviathan, Twilight), has been released along with the full track listing and more ahead of its street date of April 29th, 2014. Check it out below.
Following the Springtime release of "Death Mask," Lord Mantis will tour out to the East Coast this Summer, as the henchmen have now been confirmed to raid the third annual New York City-based underground fest, Martyrdoom. Running from June 27th through July 1st at Brooklyn's Saint Vitus Bar, Lord Mantis is now locked to perform the final night of brutality alongside Mournful Congregation, Lycus, Vilkacis and Evoken that evening alone. A full tour routing based around the Martyrdoom set will be announced in the coming weeks.
1. Body Choke
2. Death Mask
3. Possession Prayer
4. You Will Gag For The Fix
5. Negative Birth
6. Coil
7. Three Crosses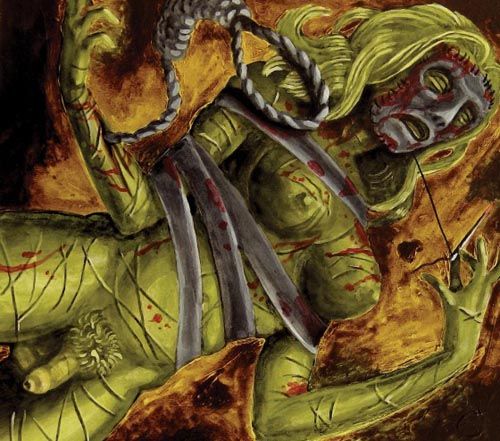 What's Next?
Please share this article if you found it interesting.
---
To minimize comment spam/abuse, you cannot post comments on articles over a month old. Please check the sidebar to the right or the related band pages for recent related news articles.