Interview
Being Justin Broadrick - The Man that Changed Music
Band Photo: Napalm Death (?)
I don't feel particularly special, I just feel really lucky. – Justin Broadrick
Final. Napalm Death. Godflesh. Jesu. Starting his music career at the age of 11, releasing his own demo for Final, signing up with Napalm Death in 1985, forming Godflesh in 1988, and Jesu in 2003, Justin Broadrick has had his hands in the metal scene, being a member of some of the most influential groups to grindcore, industrial metal, post-metal, and alternative metal. Turning down offers to join Faith No More and Danzig and producing for Pantera, Isis, Pelican, Earth, Knut, Justin Broadrick has earned the respect of musicians and fans alike. With the much anticipated release of "Why Are We Not Perfect" off of HydraHead this week, Justin Broadrick has once again proven that he can test the waters, push the limits, and continue to evolve.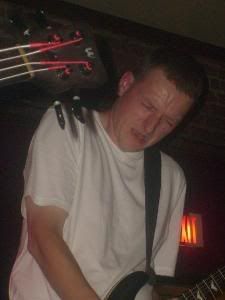 Justin Broadrick doesn't have a scene. He isn't hanging out with record label people or music groups on the weekend and he doesn't live in the city. He is content hanging out with his girlfriend, listening to music, smoking dope, and watching movies. He loves art. He loves cinema. He feels a connection to cats. He drew as a kid. He isn't a rock star, though be swigs from a bottle of Jack Daniels after a show. Justin is a man who loves what he does, does it because he has to, and feels like he has gotten lucky.
After signing vinyl copies of his records for one fan, stopping and thanking another for coming out to the show, and checking to see if all was going well with the equipment being packed up, Justin led me back stage to interview him. Back in August, I contacted Justin about interviewing via phone or e-mail. He apologetically said that he was not doing interviews due to studio work before touring, but volunteered to sit down with me at one of his shows and do an interview. Being much more than I ever expected, I anticipated sitting down and picking the mind of one of the most influential men in music. Not only that, I was sitting down with a man that I respected.
This was not my first encounter with Justin Broadrick. In March of 2007, I traveled with my then boyfriend, now husband, to Minneapolis, Minnesota to see Jesu perform with Isis at the Triple Rock Social Club. Justin was sitting at the bar before the show and I asked him to take a photo with my boyfriend. He came over, sat down, chatted for a few moments and snapped a few photos. I thanked him for his time and was impressed by how nice he was. Seven months later, Justin not only remembered my fiancé and I from the March show, he remembered what we chatted about. Mundane facts like me mentioning to him that my mother was from England, something I later felt foolish about.
I sat down on the stage next to Justin. Justin rolled a cigarette and we started talking about alcohol, a conversation brought on by me after I confessed to almost getting into a fight a few minutes earlier with a girl who had called me a groupie. "It's the English-Irish temper." I tell him. "But only at the bars. I just have to be very careful with beer," I confessed. "Yeah, beer does that to me, too." "I had cherry whiskey one night before I moved to the South. That stuff is good, but it fucked me up." I said. "Cherry Whiskey is actually quite nice." Justin said. Justin and I, in true UK style, had just bonded over booze.
We actually bonded earlier in the night, when I first arrived at the Spanish Moon. I walked into the club at 8 pm, before doors opened, unsure of whether or not Justin would be there or if there would be difficulties getting past the promotional team of that night's show. I walked right over to Justin and was greeted by, "Hey, there they are!" and he followed by a handshake, hug, and kiss on the cheek. He introduced me to the band - Dave Cochrane, bass, formerly of Head of David and currently performing with the Courtesy Group and Transitional and Phil Petrocelli, drums, of Black Noise Cannon. He and I quickly began chatting, discussing music writers and music journalist, the difference between the two, and being a fan and writing about the music that you love. I was invited to watch the sound check and was told, quite apologetically, that we would need to do the interview later because they needed to go eat before the show. And he apologized for this more than once, put my name on the list as his guest, and promised that we would do the interview later. This was a fan's wet dream.
After talking with one another for twenty minutes, Justin said that I should ask some questions. "In case someone comes in and says you have to go. I don't want for that to happen. Even though I am sure that some of the crap I am talking has some relevance." When you talk with Justin, everything has relevance. From talking about what it is that music does to him to why he loves music so much, you know that Justin doesn't do this to make money and he doesn't do this for fame, he does it because it is such an integral part of him, he simply has to.
"It's really everything to me. It's the highest level of everything to me. Music was the only thing that ever really did anything spiritual to me that was outside of everything else and I actually felt a communication with something higher other than myself. I cannot even imagine existing without it and all music I listen to is like the soundtrack of my life. The music I do all has a soundtrack to it in my head. Whether it be really pretty music or really ugly music. And emotionally I feel so connected to it in the extreme."
Music has proven to be an important part of Justin's life. Growing up in Birmingham, there were periods of his life where things looked bleak. Music provided him with a sanctuary that he could call his own, an escape from everything that was going on where he could feel and could feel on a personal level. "It was like that when I was growing up. My mum was a complete fuck up and my dad had me when he was sixteen. He was a heroine addict. I never saw him for most of my life and things were so fucked up for me. Music was the only thing that could channel everything in, hate and love, both extremes too. "
He doesn't consider himself to be particular special in his talent. He considers himself to be lucky. "I know a lot of creative people and they don't do anything. They have never had the opportunity. It has never been given to them and they just sit there for years creating. They could be extremely talented and they just don't have an avenue. Myself, I don't feel particular special, I just feel lucky. I feel like I have a chosen form of expression that it has somehow reached people. It may have never done that I would still be sitting in some shithole place where I come from, whereas my lifestyle now is a better lifestyle. I have money and a nice house and I can have a nice life, but it isn't the background I come from. I got lucky."
And Lucky he has been. Having a career in music that spans over twenty years and being apart of such influential acts as Napalm Death and Godflesh, one might expect Justin to be a much angrier person than what he is. In listening to his music, from the time he started Final to Jesu twenty years later, his music has become a sort of autobiography. "Do you think that the different projects that you have been involved in represent different elements of yourself and how you have changed as a person?" I asked. "Oh absolutely!"
"This is the great thing about Jesu for me, is that it is so much more softer than everything. For me what really pissed me off with Godflesh is that it was really interpreted as a really masculine metal thing. That, for me, was something that I never wanted to be apart of. I never wanted to be apart of this fucking scene of sort of men crushing. It was much more. I was brought up by my mother alone so for me, my responses are way more feminine than male. I never had a strong father figure in my life forever and I was always at odds with that machismo and people thinking that I just wanted to go around and beat the shit out of people. I think that sometimes people think that I am such big scary dude and I am the opposite of the scary dude. I am the least scary person ever and Godflesh was all defensive for me. It was an attack. It was crushing. I was fighting feeling like a really weak, hidden person that no one wanted to listen to or notice in anyway. I was pretty angsty and I made it when I was 19 and so full of fucking hate."
The angsty, full-of-hate nineteen year old Broadrick was not he same man sitting with me, sharing slices of his life. It is not the same man that confesses to loving cats and feeling a real connection with them. And that is not the same man that discusses the creative process and the real need for him to create.
"I think emotionally as a person though, I am just one of those people that are really sensitive to things and things affect me really strongly. And its really naked feelings and life is a really naked, fucking hypersensitivity, pins and needle thing. The language in the music is me trying to express that frustration, confusion, and everything - all these multi- layers of existence itself."
Perhaps this is why Justin has such an appreciation for the people who do enjoy his music and consider themselves his fans. Justin recalled sitting down in Minneapolis and having a conversation with an 18 year old fan that he says was "dead cool". When approached by people attending his shows, he is always kind and takes a few moments to interact and connect. And he remembers people, just like he remembered me seven months later. Or maybe it is because even though he is one of the most influential men in music, he is so far separate from the music industry that it allows him to maintain a certain level of honesty and humility. "The music that I make is ultimately really honest. It's made in a vacuum and in a weird solitary, little isolated place essentially on my own - outside of any scene or any industry or any of this crap. It's not where I live. It's not like on the weekend I go out with music industry people or loads of different groups. I hang out with my girlfriend and that's it. We smoke a load of dope. And we listen to a lot of music and we watch a lot of films and I live in the middle of no where with the mountains behind me and the sea on the other side of me. I have no scene. I hang out with all my mates, even the mates that are in my band I have known for 20 plus years. It's a very tight knit, very isolated. Self- imposed isolation, if you know what I mean, and I really get off on that."
Not only is Justin an honest musician, he is also a music fan. When I asked him what his Top 5 favorite albums of all time were, he was able to name the first two without hesitation. "Killing Joke's first album, which was called Killing Joke. It was made in 1980. It is probably one of my favorite albums of all time." At this time, he looks over at Dave Cochrane. They begin discussing music. "When I met Dave, he was the only person who liked the same music I did." They talk about Killing Joke for a few moments and you could see the excitement they both felt from something they both love. "Every time I hear 'Requiem', it absolutely kills me." He goes on to list Red House Painters second album. "Which was called Red House Painters, but their first one was called Red House Painters as well, so Red House Painters II." There is a tie between Public Enemy and Eric B and Rakim. He names The Swans Filth and lastly Black Sabbath's Volume Four.
"When would you stop making music?" I asked him, intrigued both by the longevity of his career and the need that he feels to create.
"If music was outlawed and you would be killed if you made it. I would still make it somewhere but it is the only way I could quit it in that way. I could never quit making music. To me honest, though, every day for at least one second I want to quit everything. For one second of everyday, I think 'Why am I doing this?' but then there are many more hours where I love doing this. But I honestly go through it for at least one second of every day. It's an art in your self. You're a slave to it and a master of it at the same time."
His tour manager and Dave come in to tell Justin it is time to head back to the hotel. They have to get up early for a long drive for their next night's show in Tallahassee, Florida. Justin tells them he is just going to sign a few things and then he will be down. They leave to go sit in the group's van. After signing a few things, we find ourselves getting caught up in conversation once more.
"When we met you in Minneapolis that night, we knew that you guys were about the music," he says to me. We discuss a book that I am writing about music, the underground music culture, and bands that I feel have stayed true to the music as a craft.
I obtained an e-mail address so my interview with him can be verified for publication. I asked if it would be ok to send the finished article to that address.
"Oh yeah, yeah."
"Ok, I just don't want to step over any boundaries," I said to him.
"There are no boundaries like that with me."
Twenty minutes later, Dave and his tour manager come up again and tell him that they really need to go this time. He snaps a few photos with me and we say good-bye. I left the backstage area, walked outside, and got into my car. The events of the night hit me. To see a show of a group you really love live is one of the absolute highs there are for any true music fan. To experience it next to the stage, while the music vibrates against your body, a live show is turned into a religious experience. Tonight, not only was Jesu my spiritual leader on a journey of heavy, layered, ambienotic wails of the guitar and primal beating of the drums, sitting down to talk to the man behind it changed music for me forever. And while I was sitting next to him, talking about my Irish and English heritage, my upcoming wedding, and writers block, I forgot that I was sitting next to Justin Broadrick. That's just the kind of guy that Justin is, you talk to him for a few moments and you feel like you are talking to an old friend.

What's Next?
Please share this article if you found it interesting.
---
To minimize comment spam/abuse, you cannot post comments on articles over a month old. Please check the sidebar to the right or the related band pages for recent related news articles.