Interview
Canadian Death Metal Band Talks Rotting Christ Tour And New Album
Band Photo: Necronomicon (?)
Morbid Angel and Deicide are synonymous with evil, satanic death metal, so when Montreal's Necronomicon started to release albums in the early nineties it only made sense to compare them to those classic bands. Band founder, Rob Tremblay didn't exactly see it that way. While his band contained similar occult trappings and extreme tempos, one would expect that from a band taking its name from Lovecraft's infamous book of incantations, but he approached his music with a different mindset. From female choirs to orchestral segments, he infused his music with a greater sense of ambiance.
As is the case with many bands early in their career, Necronomicon has progressed over the years. Their music has become more complex and faster. Tremblay states their latest recording, "Advent of the Human God," released earlier this year via Season of Mist, Records, is near perfection. He feels it is the closest thing to fully realizing his vision.
The group has been on the road continuously and has made several U.S. appearances throughout the last five years. At the time of this interview, Necronomicon was on the last day of their U.S. tour with Rotting Christ and Carach Angren. The band had previously toured their home country, logging in over two months total on the road. This tour was originally set to feature Marduk, but the group cancelled due to vista issues. All three of the bands decided the package was strong enough to carry on, so Tremblay was able to give the following interview.
Rex_84: This is the last show of your tour with Rotting Christ and Carach Angren. How has it been?
Rob Tremblay: The tour went really well, even though Marduk didn't show up for the tour, so at first everyone was a little bit nervous, but we were pretty confident. When the tour was announced, people were excited about the entire lineup and not just Marduk, so the decision was made that all the bands still wanted to do the tour because a lot of fans of the three bands were pretty excited. They hoped that the tour package didn't cancel the rest of the tour. So far so good, not one show has had a bad result. Some shows were sold out. It's a fantastic tour.
Rex_84: Have you toured in the States before?
Tremblay: These last fives years we've been mostly touring the U.S. We've been to Europe, but Necronomicon has mostly been touring the U.S. these last five years.
Rex_84: Do you think your symphonic approach works well with the bands on this bill?
Tremblay: When we discovered that Carach Angren would be on this tour, automatically we said, "that's a good match," even though they have more orchestration than us. Necronomicon has some parts on some songs, but other songs we don't have orchestration at all, it's just pure blasting. I didn't know Rotting Christ have also, but what I remember from Rotting Christ, we're talking about the nineties, so that was a little different back then, so I was surprised to see they have some stuff like that. Of course, this comes back to what I said in this being a really strong bill even with Marduk not there. It's a really focused on the occult, Rotting Christ is a little more satanic and Carach is a little more orchestral and theatrical, so we have a little touch of everything, but the three bands are really different at the same time. I think that's one of the reasons the bill is so strong and we're doing so well on the tour. Because we are in between the brackets, we're like the perfect bill in a certain way.
Rex_84: You are listed as having just three members in the band: Rick, drums, you on vocals and guitar and mars on bass. Is this your live lineup, too?
Tremblay: Actually, that's the band. We've been four for some years in the past, in the nineties, but it was more of a friend of the band wanted to be in a band and we took the guy for a while, but when the band started, back in the day, I wanted a three-piece band, so we returned to being a three-piece band, but that was just a few years that we were four. But yeah, on stage we are always a three-piece—three on the album and three on the stage.
Rex_84: How do the keyboards work?
Tremblay: Well, it's not keyboards. It's orchestral samples. It's all recorded by real musicians. After that it becomes a midi composition, like written on paper, and you import the samples to play this. That's how we work. It's all real instruments. We have a playback that my drummer has and it starts an in air monitoring and you have a metronome, so we start the track as a metronome and give the count and we play with the orchestration, actually.
Rex_84: At the beginning of the year you released "Advent of the Human God." Now that you've had several months to reflect on it, did it come out the way you wanted? Would you have done anything different?
Tremblay: It's pretty much the closest thing I've ever wanted from an album. Back in the day, it was different because we had less access to real studios. It's not always easy to find a descent place to record in Canada, especially for metal. Now it's changed a lot. Everything has evolved these last fifteen years. It's easy to have access to people who have been working with metal or have been travelling to work in other studios in the U.S. or in Europe. We worked again with Jean-Dagenais from Kataklysm. He's a personal friend and he's been working with us since "Rise of the Elder One," before and even back in the day with "Pharaoh of Gods." For us it was like, we get along and we work well together so let's do it. It's pretty much the closest thing to what I wanted compared to other albums we did in the past.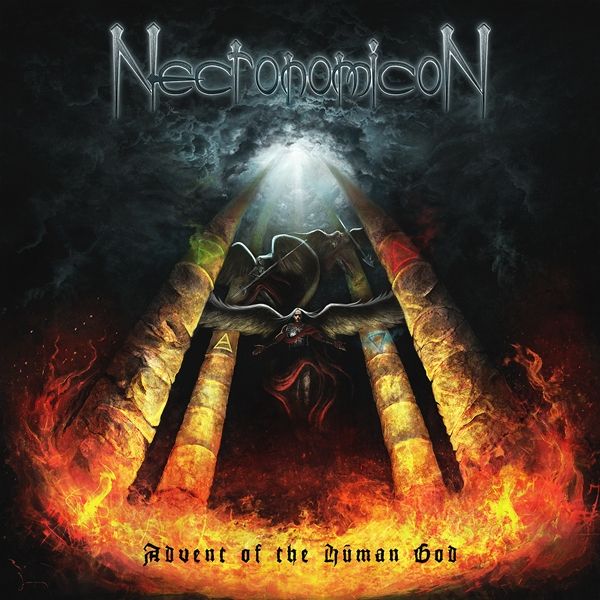 Rex_84: Many of the songs on the album such as the title track, "The Golden Gods," "Crown of Thorns" and "Alchemy of the Avatar" all contain titles that refer to divinities. Is this a theme that runs through the album?
Tremblay: The title of the album is "Advent of the Human God." It's a thematic album because every Necronomicon album is thematic and specific. There are always one or two songs that are always apart. For example on this one you have "Crown of Thorns" and "The Fjord" that are not related to the thematic of the album. They have their own theme, but the rest of the album is linked together like "Advent of the Human God," The Golden Gods" and "Alchemy of the Avatar." Everything is related to the self-empowerment of human beings, to be connected to everything, to open the door to the inner self, to become one with everything and everything to all. It's one in all and all in one.
Rex_84: That's the human god, the god in inside you, right?
Tremblay: Yes, in connection with the entire creation. We realize that we are part of everything and everything is intertwined. We are part of the great all and the great small. To realize that and open up ourselves is to become our full potential of god-like powers.
Rex_84: "Advent of the Human God" contains some symphonic black metal and some death metal. How has you style changed over the years? Did you present these elements on older records?
Tremblay: I think it's always been there, even before "Pharaoh of the Gods." It really started in 1994 or 1995 when we released "The Silver Key." The song "The Silver Key" was on "Pharaoh of the Gods," but it was on the previous record, which is a mini-album. That was the first time we incorporated ambiance and stuff like that. I always wanted to do it before that, but I didn't have the means to do it. It was more typical black metal. It's always been occult and dark, but it was more death metal cadence and I wanted to reach a certain speed that my musicians in the beginning of the nineties were not capable of doing, so everything has changed slowly when I found the proper musicians to be able to do what I wanted to do. It's pretty much been around since the second recoding. Already on the first demo, we're talking about '91; there was already pieces of ambiance and dark, gloomy stuff.
Rex_84: People in North America didn't really know about black metal back then (2nd wave black metal). Were you listening to black metal bands back then?
Tremblay: I was listening. When I was younger there was Bathory, Celtic Frost, Venom and stuff like that. I didn't even know about black metal, to be honest. I was doing my stuff in the north. That was pretty much it. People were saying we were doing weird metal. They said we were more into bands like Deicide and Morbid Angel. We were a band where you could hear about dark and mystic stuff. We aren't considering ourselves in that bracket. We said it fits but it doesn't fit because we have another vision of how to do that. We've had intros. For the first demo there was this weird interlude (makes wind noise), really sort of creepy stuff. Also on "The Silver Key" there is a track called "The Asylum" where it's like you're going into a corridor and you hear an incantation. It's really Lovecraft stuff. We also had female vocals in the nineties in '95 on "The Silver Key" again. That was the first time we were using female singing.
Rex_84: Do you still use female vocals?
Tremblay: Yes, we have some lead and choir vocals. Yeah, depending on the songs, of course, like the intro you're going to hear tonight, that's "Into the Descent" from Advent because we are starting the show with the intro from the new album, so you hear the choir and all the female vocals. I love that. I started that back in the day and I still love doing that.
Rex_84: Speaking of keyboard-driven black metal, I don't really see Necronomicon relying too heavily on keyboards (orchestration) like Dimmu Borgir or Cradle of Filth. For your band it's more for intros and certain passages. One song that really works is your Celtic Frost cover "Innocence and Wrath." Tell me about making that song.
Tremblay: We just did it because when I heard that in '85 that was like "that's it!" That's how I want my stuff to be. I want my stuff to sound like that, really doom, really dark, really occult with symphonic. Why not? We're going to do that. And on the same album there is "Necromantical Screams" with the female vocals. The idea came from that in a certain way, but I already had the idea before that. I've been listening to a lot of classical music and I always felt that classical music, orchestral music and powerful choirs fit metal, so it goes together naturally.
Rex_84: Like the "Conan the Barbarian" soundtrack.
Tremblay: Basil Poledouris is one of the composers I really admire. I like Danse Macabre. There is a really amazing piece that me and the guys from Carach Angren were talking about because they like classical music a lot. I like a lot of Wagner, "The Ride of the Valkyrie." That's so metal! Once I heard Celtic Frost doing that, I thought "that's the answer." I was still a kid back then, but I wanted to do something like that, so that's why I'm paying homage to Celtic Frost. They were the first one to do it.
Rex_84: What does the band have planned after the tour?
Tremblay: This tour finished tonight with Rotting Christ and Carach Angren, but we still have some shows with Necronomicon on the way back, so we have five shows on the way back to Canada. After that, I have some business to take care of at home. We'll see, but we're talking about maybe planning for next year for touring next year in the spring. We talked about it with our agent last night. We're not sure. It's going to depend on a lot of things. We get off about two weeks. Our agent said next week but we're still going to be on the road, so I said give me time to get back home and have a week to adjust myself because we've been on the road for two months. Before this tour, we were on this one (shows me laminate of Canadian tour.) There was only 48 hours in between, so that's why my voice is a little bit fucked up.
Rex_84: Are you ready to go home and rest for a little bit?
Tremblay: I won't have much time because we'll see about planning for next year because the album is doing really good in the United States, so we need to come back and we have to start thinking about it already.
What's Next?
Please share this article if you found it interesting.
---
0 Comments on "Necronomicon Discusses 'Advent of the Human God'"
Be the first to comment! Tell us what you think. (no login required)
To minimize comment spam/abuse, you cannot post comments on articles over a month old. Please check the sidebar to the right or the related band pages for recent related news articles.