Interview
Tom "Angelripper" Talks About Their Latest Thrash Masterpiece
Band Photo: Sodom (?)
German thrashers, Sodom may not receive the attention that thrash bands like the Big Four of America. After nearly thirty-five years, though, the group remains a viable act in the metal underground. Part of the reason they remain important to the metal scene is consistency. While Big Four Bands like Megadeth and Metallica took turns into more commercial territory, Sodom has stayed heavy and extreme.
Sodom is one of those bands you'll often see stitched to a jean jacket. Seeing a Sodom patch on a jacket gives that person instant cred as a metal head. It's not only a nod to the old school, but youngsters wearing the patches reveal the band's longevity. Why not support the band? With their first albums "In The Sign of Evil" EP (1984), "Obsessed By Cruelty" (1986) and "Persecution Mania" (1987) were important records in the development of black metal. The next record, "Agent Orange" (1989) showed them take a step towards the heavier grooves and follow the path so many speed metal bands take into the realm of thrash. Since then, many of their riffs recall Slayer to the point one could say they're Germany's answer to Slayer.
The Eighties have come and gone, but Sodom is still here and still relevant. Their latest full-length "Decision Day" (due August 26, 2016) is another lesson in metal violence. Their sound is updated, especially production-wise, and there are less Slayer-isms, but one listen to the record and you know this is a Sodom recording. Band founder/vocalist/bassist Tom "Angelripper" Such screams and barks with utmost gusto, his voice often amplified by his band mates gang choruses. There is a good mix of speed and groove—plenty of head banging material. Latest drummer Makka brings a bit of "rolling thunder" to the band's sound.
In the following interview, we reached out to Angelripper across the pond to talk about this new record and some of the themes he approached, both musically and lyrically, and to find out other information that fans of the band want to know such as if they'll ever do a tour with Germany's Big Four Thrash bands.
Rex_84: "Decision Day" drops on August 26. Did it come out the way you wanted?
Tom Angeripper: Yes, we are so glad with the final result after a long period of hard work. We also got the first magazine reviews and fan reactions, and they love it. We always tried to create something new. We never look back, or left and right. There is no inspiration in the song writing process. We just do the music we like listen to, without influence from outside and no dictation from labels, publishers or musical agencies.
Rex_84: You spent four months at the studio recording the album. Did this give you enough time to get the album to sound precisely how you wanted it to?
Angelripper: Yes, we had a lot of time to write the songs after "Epitome of Torture." For the new one, we had no release date agreed with the label, so we were able to record the songs in a time period of six months. That was relaxed to work without deadline pressure. so we had enough time to do a pre-production and change parts we were not satisfied with. the result is perfect in my opinion.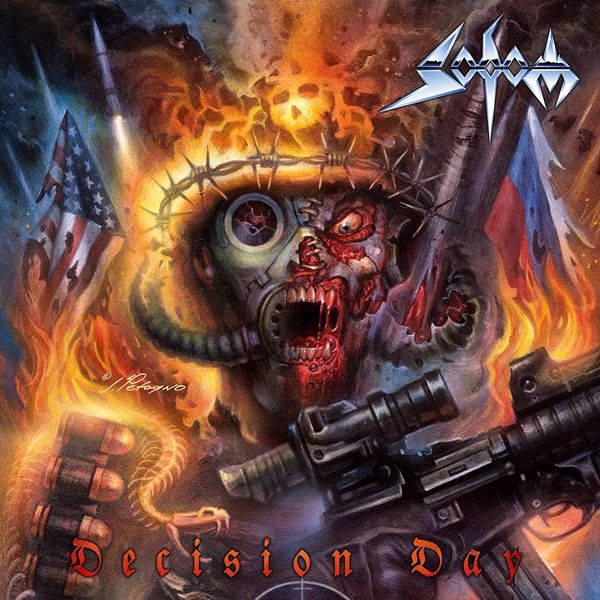 Rex_84: What was it like working with Cornelius ´Corny` Rambardt, who also plays drums in your side project OInkel Tom?
Angelripper: Yes, Corny did a great job. We recorded the drums and instruments with microphones, without any trigger signal or midi files. that keeps our typical Sodom sound so organic and straight to the ears. but yes, we recorded digitally, which is usual and payable in these times. I like old productions with "bigger" drum kits like old Venom, Kiss and Motley Crue etc…. Corny is a big Sodom fan since '86. Before we started the pre- production, we had a lot of discussions about how we could keep the spirit of the old days. Some of the songs sounded very well with the "Sodomy & Lust" barking. We went away from that screaming like "Tom Araya," that we used on "War & Pieces" and "Epitome of Torture." These typical "Angelripper" vocals fits perfect to the new songs.
Rex_84: Some of the songs touch on the topic of D-Day, the day that Western allied forces invaded the beach at Normandy and liberated mainland Europe from Nazi Germany. What resources did you use to help you write this song?
Angelripper: I saw a lot of documentaries about the World War 2 and also the D-Day topic. But this album is not a concept album about this. D-Day reflects also the situation nowadays. The next D-Day will come, but more devastating. Good album title also.
Rex_84: You have always penned songs on historical topics. Where did you get your love for history? Do you recall reading a certain book or watching a movie/documentary that led to your interest in history?
Angelripper: I think that everybody has to be interested in historical things. That is so exciting to do, but the main topic of D-day describes the current state of our world. Bad news every day, especially when you consider how much the world has changed since the latest album. Sectarian killing, Cold War, nuclear armament, abolition of democracy in many countries, starvation and all the destructive …that inspired my lyrical mindset and fits so perfect to our music. That is sad but true. I am not politically active, but this music gives me the chance to enter the stage and scream it out. That is like a therapy for me.
Rex_84: How does this album compare lyrically to other war-based songs like "M-16" and "Agent Orange?"
Angelripper: The war is still around but the threat of terrorism in Germany and Europe is more relevant than ever and we never learned to handle it, but we never changed our live customs and we will stand it. during "AO" and "M-16" times we just had to fear the Cold War, but never got so much conflicts inside Europe.
Rex_84: "Belligerence" denounces the current aggressiveness between nations. Do you have a specific event that you're referring to? Do you feel that World War III is eminent?
Angelripper:: I got some information that N.A.T.O. deployed the biggest military buildup on the Eastern flank, unprecedented since the end of the Cold War. I am scared this could be the spark to the powder keg for the next WW.
Rex_84: how do the lyrics to "Caligula" fit into this idea of world domination?
Angelripper: the movie from '79 was a big inspiration. It's about the most notorious and relentless tyrant who ever ruled the imperium. One of his famous quotes reads as follows: "let them hate me, so long as they fear me". Who will be the next with such bad attitudes?
Rex_84: "Blood Lions" deals with a topic many people voice frustration over on the internet, wealthy hunters killing lions. Why do you think this topic angers so many people?
Angelripper: I saw the documentary "Blood Lions." There are some hunters out there paying thousands of dollars to kill a male lion. These lions are canned, so there is no danger for the hunter to shoot them. I am hunting too, but I select some of the deer and boars in my hunting district to control the population (also like the meat.), but I would never pay so much money just for a huge trophy. This killing business is horrible and that's why expert hunters get moved into bad light and get despised by people.
Rex_84: "Decision Day" features the artwork of Joe Petagno (Motörhead, Pink Floyd, Led Zeppelin). What was it like working with him? Did the artwork come out as you wanted or even better?
Angelripper: I am so proud that he did the job. He is a great artist and a pioneer of rock and metal covers. When I got in contact with him I was so surprised that he knew the band since beginning and was a follower of our career. You are right, it looks a little bit like Snaggletooth but it has nothing to do with Motörhead covers. It is just his style…. but it looks fantastic and we are so pleased with it.
Rex_84: You state that the vocals on "decision Day" recall "Persecution Mania." I felt the vocals gave this a touch of black metal. Where you trying to add a blackened touch to the album?
Angelripper: I am multifaceted in the ways i sing. I like this typical screaming, shouting and barking like on "Sodomy and Lust," but i learned to sing also complex melodies when i formed Onkel Tom band. On the new album, you'll hear all of those styles, that makes this album so multifarious. But you are right, some vocs sound like black metal, but why not…I was one the first singers who came out with that style in 82….
Rex_84: "Decision Day" is the second album featuring Makka on drums. What does he bring to Sodom?
Angelripper: For me, he is the best German drummer. His drumming is accurate, superfast and always dependable. He had so many good ideas and came up with awesome drums to get these songs realized.
Rex_84: Sodom has released albums since the early 1980s. Those early records were not only important thrash recordings, but they also helped pave the path for black metal. When other thrash icons have slowed down or gone in a different, less appealing direction, Sodom has remained heavy and extreme. What has kept you going?
Angelripper: In these (earlier) times, I read a lot of books from Aleister Crowley. I was very interested in all that magic and satanic things. But later, i realized, that my personality changed into a negative direction, so I felt better to stop with it. Life and the state of our world brings enough motivation for all the lyrical themes. It is also the result of hard working men. It's not easy to survive the business in these hard times, but Sodom has a cult status. I realize that we inspired so many bands and Sodom still has a big influence on the scene.
Rex_84: Sodom is part of the big four German thrash bands with Kreator, Destruction and Tankard. There has always been talk of a tour featuring you four, and apparently, you played Germany's Bestial Festival in 2013. Are there any more talks of a big 4 tour?
Angelripper: That would be my dream. It's hard to get it realized, cause we have to fight against the business too. There are different labels, publishers, booking agencies and managements who just follow their own interests, but we, the musicians, keep that idea in our mind..(we will see).
What's Next?
Please share this article if you found it interesting.
---
To minimize comment spam/abuse, you cannot post comments on articles over a month old. Please check the sidebar to the right or the related band pages for recent related news articles.