Interview
Autopsy And Chris Reifert Continue Their Reign Of Gore With "Tourniquets, Hacksaws And Graves"
Band Photo: Autopsy (?)
The U.S. death metal monster Autopsy was slain back in '95, allowing a gore-soaked phoenix to rise from the infected ashes as Abscess took over, injecting a dirty punk vibe to the usual death metal mayhem.
2011 saw history repeat itself, but this time in the opposite order, as Abscess finally succumbed to internal rot and imploded. In a ritual involving headless zombies, brain-consuming metal fanatics, and self-mutilation, Chris Reifert managed to resurrect Autopsy from the pits of Hell, and since then the demonic musical manifestation has released a stunning three aural assaults on the mortal world.
With Autopsy recently being covered in our Sunday Old School column and new album "Tourniquets, Hacksaws and Graves" out now, I braved life and limb (mostly limb - I mean just look at that album cover!) to speak with the necromancer/musician Chris Reifert and discover what foul magic has been enacted on this latest go around. Read on - if you dare - to learn the final fate of Abscess, the blasphemous imagery soon to hit the digital world from Autopsy's comic release, and how Reifert is getting out his punk urges with a new project.
xFiruath: Since the demise of Abscess and the resurrection of Autopsy, the band has been busy busy releasing quite a bit of material in a relatively short amount of time. When did you write the tracks to "Tourniquets, Hacksaws and Graves" and was any of it material from the same time as last year's "The Headless Ritual?"
Chris: Yeah, we've basically been in overdrive since we got back together five years ago. Whoa! As for "Tourniquets…" material, the title track had been kicking around since the beginning of the reformation, but was waiting for its turn to get on an album. Some of the other songs were created around the same time as "Headless," and the rest were written right before recording the new one. We wanted to make sure all the songs blended well together so it sounded like a complete and fitting journey into the ruination of your mind, like a perfectly sewn together rotten flesh puzzle. Talk about fun for the whole family! Check it out, kids... I put together the corner with the parasitic eye in it!
xFiruath: Musically is this essentially a continuation of the last album or will there be any unexpected twists that fans might not see coming?
Chris: It's an Autopsy album, so you should know somewhat what you're getting yourself into. We're not recycling any old ideas, but we're not straying off the proven path either. There are definitely some cool treats in there to keep your ears and brain busy, but nothing that doesn't sound like us.
xFiruath: Where did the recording take place and how did that process go?
Chris: It was at good ol' Fantasy Studios. The recording experience was awesome as it is every time we go there. Our vision is in capable hands at Fantasy with Adam Munoz in the Captain's chair....we wouldn't have it any other way. While we take what we do quite seriously, we do indeed have a blast while recording. Crack open some beers and whiskey, turn up the amps, crush the drums... great stuff!
xFiruath: You guys have released pretty much all your material through Peaceville Records – is your contract with them still ongoing or will you be seeking other options for future material?
Chris: Well, 26 years later we're still with Peaceville. A long time, eh? As for contracts, we normally sign on for an album or two and see how things go and work from there. As for the future, we're not there yet and since there's no blueprints for this sort of thing, we're making it up as we go along. No complaints with Peaceville though, so don't be surprised if you see more from us with them at some point.
xFiruath: Who handled the artwork and what sort of input did the band have on it?
Chris: That would be Mr. Wes Benscoter, who was also responsible for the "Macabre Eternal" art. The concept was all his. I gave him the album title to work with and not much else. He was very aware that with a title like that, it could easily tread into typical cliché death metal cover territory, so he made sure to come up with something original, but also fitting. We offered a couple of tiny suggestions along the way, but nothing major. He knew what he was doing and we are totally pleased with his work. And damn, it goes with the music like a severed hand in a barbed wire glove! Next time you see Wes somewhere, be sure to get the man a beer on our behalf. We'll gladly pay you back on Tuesday.
xFiruath: On the subject of art, tell me about the comic Autopsy is about to release – what's happening as far as the story and who is handling the artwork and writing?
Chris: The comic book has already been out in actual physical print form, but it's sold out since then. Now it's being relaunched via Comixology in the digital realm. It's about the surgeons from the "Severed Survival" cover being summoned into our world and wreaking gore soaked havoc. We are damn stoked with it and being comic fans, it was beyond cool to have this thing happen. Hell bloody yeah! Art-wise, it's Mats Engersten and Vince Brusio came up with the script. There's plenty of sick stuff in there as well as references to album and song titles for anyone who's paying attention. Check it out!
xFiruath: What's happening in the near future as far as live shows/festival appearances?
Chris: Well, we don't have anything booked at the moment, but stay tuned and let's see what happens. Anything can happen at any time, ya know? For now, just crank up "Tourniquets, Hacksaws and Graves" and feel the blood in your brain boil and ultimately go septic.
xFiruath: You've got another project now titled Violation Wound – what sort of sound is that band going for and what's happening as far as a release or shows?
Chris: Violation Wound is a power trio playing old school punk rock with some HC insanity thrown in for good measure. It's the real deal, nothing of the shopping mall punk variety, if you know what I mean. It's not six guys with goofy haircuts and 7 words for the band name. Haha! The songs are short, pissed off, to the point, and pretty damn rockin' I dare say. It's Joe Orterry on bass, Matt O'Connell on drums, and myself on guitar and vocals. Our debut album comes out May 26th on VIC Records. If raw, vintage punk is your bag, this should do the trick for ya!
xFiruath: Is Clint Bower doing anything with music these days? I haven't seen anything about him since Abscess was put on ice. A compilation of Abscess stuff also came out last year – was that essentially the end of what we can expect to see release-wise from that band?
Chris: I haven't heard from Clint for a while, so I can't say what he's got brewing. The man is a guitar and vocal beast, so I'd sure love to hear him blast out some brutality. As for future releases from Abscess, it's not likely. The last compilation release, "Bourbon, Blood and Butchery" which came out last year is pretty much the final installment of stuff from the Abscess vault. It's on Aphelion Productions and Abscess fans will definitely find lots of good and sleazy chunks in there. There's always re-issues though, and I'd love to get a few more of those out there for folks who missed out the first time around.
xFiruath: What music are you listening to these days?
Chris: All sorts of stuff as usual. My tastes are all over the map. For example, there's some stacks of music piled around my stereo cabinet containing albums from Iron Maiden, OFF!, Neil Young, Kadavar, Sordid Flesh, Rhapsody of Fire, Anti-Nowhere League, Nick Drake, Helloween, The Avengers, Mandrake Memorial, Flower Travellin' Band, W.A.S.P., Skullhog, Wishbone Ash, etc, etc, etc...Whatever suits the mood.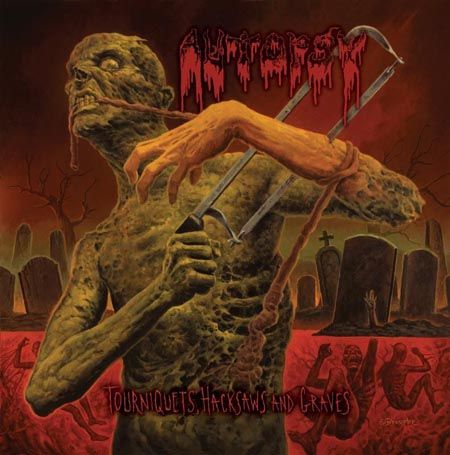 Ty Arthur splits his time between writing dark fiction, spreading the word about underground metal bands, and bringing you the latest gaming news. His sci-fi, grimdark fantasy, and horror novels can be found at Amazon.
What's Next?
Please share this article if you found it interesting.
---
0 Comments on "Autopsy Continues The Reign Of Gore"
Be the first to comment! Tell us what you think. (no login required)
To minimize comment spam/abuse, you cannot post comments on articles over a month old. Please check the sidebar to the right or the related band pages for recent related news articles.