Interview
Ville Friman Discusses New Insomnium Album "Shadows Of The Dying Sun"
Every few years you can expect the ever-reliable Finnish outfit Insomnium to let loose another darkly atmospheric bout of melodic death metal.
The band's latest offering "Shadows of the Dying Sun" lands at the end of the month, following 2011's "One For Sorrow" (reviewed here). After keeping a very recognizable base sound across each album through the years, there will be a few surprises in store for fans this time around.
"I would say the core sound of our band is there," said Insomnium member Ville Friman when I spoke with him last week, adding "I think we have used our influences differently on this album, though... It's more diverse."
During our discussion, Ville took me through the writing and recording of "Shadows of the Dying Sun," touching on everything from how lyric videos come together to bonus material on the album's special edition.
xFiruath: Let's start with the writing and recording of the album. When did that process start and how did it go for this new album?
Ville: I think we started writing the songs at the end of 2012, when we came back from a North American tour, or maybe at the beginning of 2013. We spent about six months doing demos and rehearsals and we got together in June to play a couple of the songs. I think the whole process was a bit lengthy because we were doing touring, and you can't always concentrate on both things. We demoed at different studios in different places.
In the end we rushed to meet deadlines but somehow we were able to pull it off. We came back to Finland to a cottage by a lake and stayed inside over the weekends drinking and playing the whole time to put the finishing touches on the songs together. Once we put all the songs together everybody put 100% into the studio to make it as good as possible.
xFiruath: Has the sound changed significantly this time around?
Ville: I would say the core sound of our band is there. We didn't re-invent the wheel. There's the same elements and melodies with acoustic guitars and everything that's been introduced before. I think we have used our influences differently on this album, though. We have thrown in a couple of songs that have a different melody. We brought in more guitar solos and stuff like that. It's more diverse. We even have blast beats and we experimented a bit and pushed the boundaries a little, thinking outside the box. I think the clean vocals sound a bit better this time around. We tried to keep everything interesting for ourselves and the listener.
xFiruath: Will there be a special edition of the album with any bonus tracks?
Ville: We recorded a total of 11 songs in the sessions. The base album will have 10 tracks, so we have on bonus song on the limited edition. It will have some new things on it because we want to offer something extra to make it worthwhile.
xFiruath: A new lyric video for "Revelations" just came out. How does a lyric video come together and what sort of input does the band have in that process?
Ville: Record companies do the lyric videos, they have media people who put something together. But quite often they might not exactly what you are looking for. There are people out there with skills you can work with and they have the vision to do it right.
The lyric video was done by our webmaster, and it was actually a tryout, it was his first time doing that. He wanted to try out his skills and we thought "why not?" We didn't give him any guidelines, we just gave him the song and let him use his own vision and he came up with the material. I think it turned out really great. It's good to have people who know and understand the band doing it. It gives a different perspective. It won't necessarily be a bad outcome working with people how aren't familiar with the band, but it's nice to work with people you know and how understand what you are going for.
xFiruath: Don't you also have a full official music video coming out soon?
Ville: Yes, actually just a few minutes ago I viewed the last cut and I think it should be out in a few days. I don't have any finalized details yet, but it's coming very soon.
Update: the video has now been released and can be seen below.
xFiruath: Insomnium recently did an online chat directly with fans. How did that go?
Ville: I had a schedule conflict that day and I actually didn't attend the chat, but it had quite a lot of people. I got the impression from the band that people were really interested in doing it, so we'll be doing another one at the end of April in a couple of weeks. The first one went well and I'm looking forward to being part of the second one. It's nice to interact with the fans to have them ask us things directly.
xFiruath: What's happening as far as summer festivals for Insomnium?
Ville: We have a couple of festivals lined up and then we have a headline tour in Europe. We'd like to come to North America of course. We don't have any definite announcements yet. But we'll do some festivals and touring.
xFiruath: What's going on as far as any other musical projects for the band members lately?
Ville: Our lead guitar player Markus plays in Omnium Gatherum and he's the main song writer in that, so he's active with that. I think otherwise we don't have any active bands. We have some projects and material for things in the future, but the three of us are mainly in Insomnium right now.
xFiruath: What's in your musical rotation these days?
Ville: I listen to all kinds of stuff really, from hardcore to punk and electronic stuff. You can't listen to metal all the time, I listen to different things at work in the background.
xFiruath: What else would you like to say about the new album?
Ville: If you haven't heard it, check out our music video coming out quite soon. Thanks for the interview!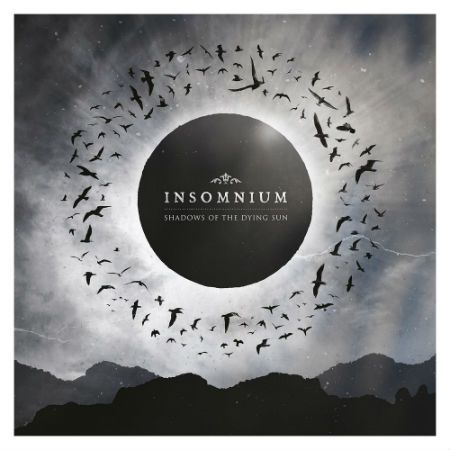 Ty Arthur splits his time between writing dark fiction, spreading the word about underground metal bands, and bringing you the latest gaming news. His sci-fi, grimdark fantasy, and horror novels can be found at Amazon.
What's Next?
Please share this article if you found it interesting.
---
0 Comments on "Ville Friman Discusses New Insomnium Album"
Be the first to comment! Tell us what you think. (no login required)
To minimize comment spam/abuse, you cannot post comments on articles over a month old. Please check the sidebar to the right or the related band pages for recent related news articles.