Infected Flesh
From: unknown
Last Known Status: Active
Latest Infected Flesh News
Below is our complete Infected Flesh news coverage, including columns and articles pertaining to the band. Some articles listed may be indirectly related, such as side projects of the band members, etc.
Doing their part to make the world a louder and more brutal place, GunShyAssassin.com has posted a stream of the title track from Spanish metallers Infected Flesh's new and third album "Concentric Circles of Disembowelment." Visit this location to listen to the stream.
The Catalonian death grinders Infected Flesh started out in 1997, releasing the album
"Anthropophagical Devourment" a few years later and dissolving the band. Six years later, a second album was issued on Hecatombe Records. By 2010, Seth van de Loo, drummer for Dutch brutal death metal act Severe Torture, started collaborating with Infected Flesh. It was he who recorded the drums for a two track demo, and just a few weeks later the band signed a deal with the North American brutal label Comatose Music for the release of the third full length album.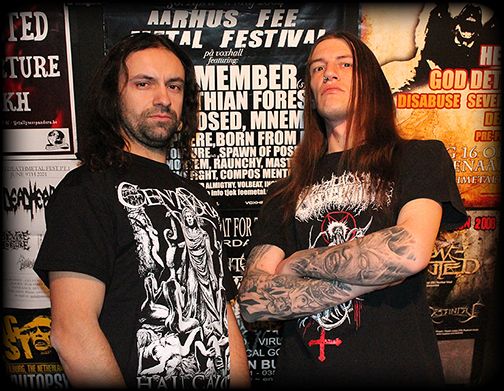 Infected Flesh is set to release third full-length album "Concatenation of Severe Infections" on December 18th, 2012 through Comatose Music. The label comments:
"With the band's recent addition of Seth Van de Loo from Severe Torture / Centurian on drums, you can expect a vicious barrage of brutal death metal with grinding riffs, immense blasting, and haunting guttural vocals spewed forth with reckless abandon. There are several guest vocal performances and extremely disturbing artwork by Marco Hasmann to make this album one of the most sick and offensive releases of 2012!"
Pre-orders for "Concatenation of Severe Infections" are now available at this location. More...
Spain death-grind act Infected Flesh has announced it's signing with Comatose Music. The signing comes in time for the band to release it's third full length album titled "Concatenation of Severe Infections" in late 2011. Writing is currently underway and expected to be completed in mid 2011 with recording sessions soon to follow. Infected Flesh recently added Seth Van de Loo from Severe Torture to take over drum duties.
You can check out Infected Flesh at this location.