Abysmal Grief
Formed: 1995
From: Genoa, Italy
Last Known Status: Active
Latest Abysmal Grief News
Below is our complete Abysmal Grief news coverage, including columns and articles pertaining to the band. Some articles listed may be indirectly related, such as side projects of the band members, etc.
Italian doom metal band Abysmal Grief will be releasing its new album "Feretri" on February 14th on Terror From Hell records, with the vinyl treatment getting release on the Danish label Horror Records. "Feretri" will feature six songs in its 45-minute duration, the tracklisting and cover art which follows below.
1) Lords of the Funeral
2) Hidden in the Graveyard
3) Sinister Gleams
4) Crepusculum
5) The Gaze of the Owl
6) Her Scythe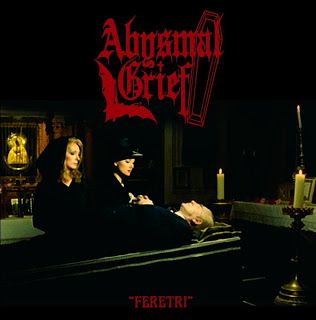 Italian doom metal band Abysmal Grief has put out a new 12", "Foetor Funereus Mortuorom," on Horror Records. It features two new songs from the band, who are currently writing new material for a full-length as well. Check out Abysmal Grief's recent official video for "Crypt of Horror," which comes off the second album "Misfortune." More...
Sinister Noise, Doll Work and Doom-metal.it have worked together to organise Italy's first doom festival. The Stoned Hand of Doom - Italian Doom Fest - Chapter One. It will be held on the 21st of May 2005 at "c.s.o.a. La Strada".
Bands playing are:
The Black
Midryasi
Abysmal Grief
Misantropus
Doomraiser
Grace Killing
Tikal
Wizard
Green Sasquatch
Ticket is 5 EUR.