Magister Templi
From: Norway
Last Known Status: Active
Latest Magister Templi News
Below is our complete Magister Templi news coverage, including columns and articles pertaining to the band. Some articles listed may be indirectly related, such as side projects of the band members, etc.
Norway's masters of doom Magister Templi have released their full-length debut "Lucifer Leviathan Logos" to North American audiences this week. Check out all seven tracks from the release below in the player, or over at bandcamp. This follow-up to 2012's self-released "Iao Sabao!" EP, offers an alchemical balance of occult/doom music blended with pure NWOBHM-inspired traditional metal.
WeLoveMetal.com has posted the exclusive world premier of "Lucifer" off the full-length debut "Lucifer Leviathan Logos" from Norway's Magister Templi. That song, the third on the release, is now streaming at this location. Italian label Cruz Del Sur Music will release Lucifer Leviathan Logos on May 7th in North America. This follow-up to 2012's self-released Iao Sabao! EP.
Magister Templi is a Norwegian heavy metal band characterized by a strong lyrical imprint inspired by Western mysticism, ritual magic and alchemy. The band was founded in 2008 by singer Abraxas and Guitarist Baphomet, and released a digital demo (Lucifer/Restoration) in 2010. After finally recruiting a full set of five members in the fall of 2011, the band played some concerts in Norway supporting bands such as Pagan Altar (UK), as well as performing at the Inferno Festival 2012.
In June 2012, they self-released their first EP titled Iao Sabao, with a concept mainly centered on the ancient Greek Bornless Ritual and the alchemical picture series Splendor Solis; shortly after, they signed a contract with Cruz del Sur Music.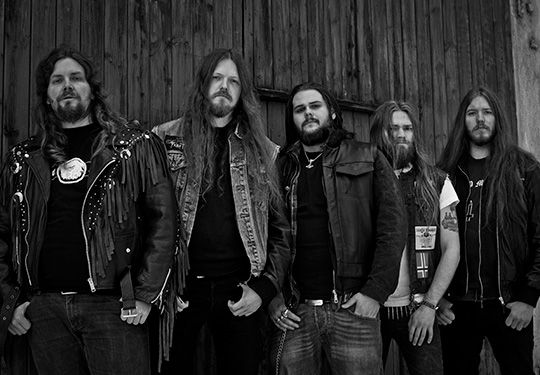 Norweigian metal act Magister Templi is streaming the new track "Master of the Temple." The track appears on the band's debut LP "Lucifer Leviathan Logos," which is due out on May 7th via Cruz Del Sur Music.
The track list for the album is:
1. Master of the Temple
2. Lucifer
3. The Innsmouth Look
4. Leviathan
5. Tiphareth
6. Logos
7. VITRIOL More...