Abstracter
From: San Francisco, CA
Last Known Status: Active
Latest Abstracter News
Below is our complete Abstracter news coverage, including columns and articles pertaining to the band. Some articles listed may be indirectly related, such as side projects of the band members, etc.
California's Abstracter has announced the band's upcoming second full-length album will be a cooperative release between Germany-based Vendetta Records and 7Degrees Records, Italy's Shove Records, UK-based Church of Fuck, and U.S. labels Fragile Branch Recordings, Sentient Ruin Laboratories, and An Out Recordings.
Drawing musical influence Godflesh, Amebix, Neurosis, His Hero is Gone, Blut Aus Nord, and Dystopia and conceptually influenced by the work of South African anti-natalist philosopher David Banatar, "Wound Empire" is a concept work that once again sees the band dwell in its obsession for massive and crushing riffing.
Crafted in near-seclusion over the past two years, "Wound Empire" is a forty-five minute hallucinating voyage into a frightening wasteland of complete darkness-ridden heaviness spread across four, ten minute-long, slabs of blackened doom.
This new album follows debut release, "Tomb of Feathers," which dropped in 2012 on The Path Less Traveled Records. "Wound Empire" was recorded this Spring at Earhammer Studios in Oakland by Greg Wilkinson and mastered at Audiosiege Mastering studios in Portland by Brad Boatright. More...
Tomb of Feathers, the debut album by bay area blackened noise band Abstracter, was released today on cassette tape format. The band has made a rare statement with this release by recording the entire thing on analog tape, and they now bring you yet another step in their effort to allow people to experience their music through a format and sound that is totally unique and of superb quality. You can learn more about it over on Abstracter's bigcartel page.
The cassette tape will be available in two versions, a regular version and a deluxe version containing a digital download, and will be bundled up in a clear cassette box with a four panel J-card designed by Mattia Alagna, Abstracter's vocalist, who is also responsible for all the artwork contained within. The cassette tapes will come in a limited run of one hundred units, and will be sold by the band them selves directly through their own imprint, Anti-Everything Laboratories, Inc. Stream the three song release "Tomb of Feathers" over at bandcamp.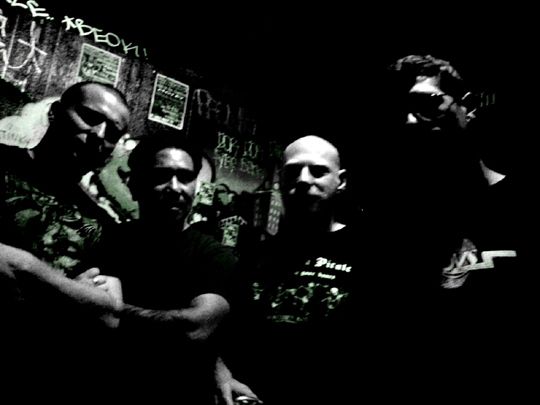 The Path Less Traveled Records will release "Tomb of Feathers," the debut album from crusty bay area blackened noise doomsters Abstracter September 18th on digital format. The CD and vinyl versions will be released in early 2013, while a cassette tape version of the album will be available for sale in fall of 2012 through the band's own imprint Anti-Everything Laboratories.
Consisting of three tracks spanning 40 minutes, "Tomb of Feathers" was entirely self-produced and self-funded by the band and was recorded live in three days (one track per day), directly to 22-track, 2-inch analog tape mounted on 30-minute reels processed by a mid-80's Akai tape recorder, by sound engineer Josh Garcia (Depeche Mode, Melvins, Dwarves).
The recordings were then passed on to Greg Wilkinson at Hearhammer Studios for mixing, and were then shipped to Philadelphia to be mastered by James Plotkin (Isis, Sunn O))), Old, Khanate, etc.). Stream all three tracks over at Bandcamp or below in the widget.