The Unborn Dead
From: Canada
Last Known Status: Active
Latest The Unborn Dead News
Below is our complete The Unborn Dead news coverage, including columns and articles pertaining to the band. Some articles listed may be indirectly related, such as side projects of the band members, etc.
In celebration of this year's fifth annual Record Store Day and upcoming Death Metal Decapitation 2 fest in Toronto, ON a free compilation has been put together by DMD organizer Blacktooth Entertainment to share with head bangers from across the globe.
The compilation features tracks from Derelict (Montreal), Deamon (Ottawa), Nephelium (Toronto via Dubai), The Unborn Dead (Toronto) and Blastmycosis (Toronto). The free download can be found here or in the player below. The track listing is as follows:
1. Derelict - Perpetuation
2. Derelict - Shackles of Indoctrination
3. Nephelium - Merciless Annihilation
4. Nephelium - Burial Ground
5. Deamon - Praying Headless
6. Deamon - Means
7. The Unborn Dead - Final Judgement
8. The Unborn Dead - Pieces
9. Blastomycosis - The Putrid Smell Within
10. Blastomycosis - Yeast Infected Cunt Strudel More...
Sevared Records has announced the second edition of its annual festival, the Brutality Reigns Fest 2, will be taking place on June 22nd and 23rd at Hot Shots in Rochester, New York. Below is a preliminary line-up of the bands that are going to play, with more to be added in the coming weeks. Check for updates on the Brutality Reigns Fest 2 Facebook event page. Also check out an upload of Intestinal Alien Reflux, one of the bands on the roster, with the track "Illegal Aliens."
Embalmer
Putrid Pile
Abdicate
Intestinal Alien Reflux
Defleshuary
Avulsion
Forced Asphyxiation
Death Sick
The Unborn Dead
Sapremia
Neurolepsy
Seplophile
Goemagot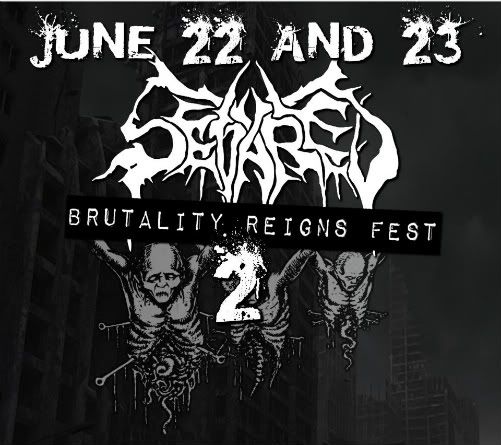 More...
Brutal death metallers Nephelium have announced they will be performing at Death Metal Decapitation 2 in Toronto, ON, on May 4th at the Hard Luck Bar alongside Derelict (Montreal), Deamon (Ottawa), The Unborn Dead (Toronto), Blastomycosis (Toronto).
Show details can be found at this location.
Nephelium traces its roots back to the late 1990s from the city of Dubai, UAE and has now re-established itself in Toronto, Canada for the last 10 years and recently released debut album "Coils of Entropy" (reviewed here).
"Coils of Entropy" reached #1 on the Canadian College Radio Loud Charts for the month March and February and can be streamed in full via Bandcamp.