Grave Desecrator
From: unknown
Last Known Status: Unknown
Latest Grave Desecrator News
Below is our complete Grave Desecrator news coverage, including columns and articles pertaining to the band. Some articles listed may be indirectly related, such as side projects of the band members, etc.
Season of Mist is proud to announce the signing of the cult death/black metal horde Grave Desecrator.
Grave Desecrator (Butcherazor – Guitars/Voices, Black Sin and Damnation – Guitars, Élson "El" Necrogoat – Bass, Márcio Slaughterer – Drums) will release a punishing new album via Season of Mist in 2015. The label also comments:
"Founded in 1998 in Rio de Janeiro, Brazil, Grave Desecrator have established a reputation as one of the most savage and brutal South American metal bands through the release of two full-length albums and several well-received splits (including much sought-after splits with Archgoat and Black Witchery).
"Adhering to the extreme ways of their predecessors in Brazil, Grave Desecrator are true torch bearers of the underground, firmly placing themselves among the ranks of entities such as Sarcofago, early Sepultura, and Mutilator."
Regarding the signing, Grave Desecrator bassist E. Necrogoat comments: "A pact has been sealed, and we are very proud of it! Season of Mist will be in charge to spread our waves of sonic desecration, striking down the earth in witching hour!" More...
Brazilian death horde Grave Desecrator has just released "Deathspells Rising" on Despise The Sun Records/Metalhit.com. "Deathspells Rising" showcases the band's early history through rare demo and rehearsal recordings. The album also includes tracks from its vinyl releases as well as a new song. Grave Desecrator just finished the Parma the Desecrating European Tour 2012 and cancelled, along with six other bands, the Avalanche Metal Fest 2012 due to problems with the city hall in São Jose do Rio Preto and other things. Check out the artwork for "Deathspells Rising" below.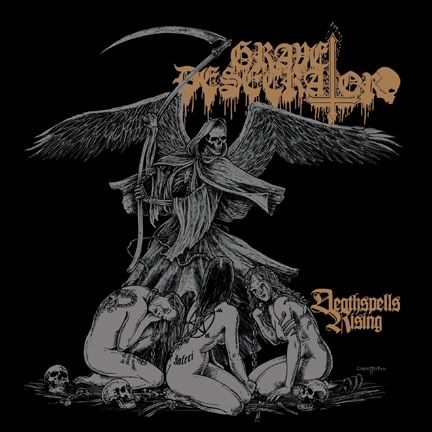 Pulverised Records has announced the signing of Grave Desecrator. Forming in 1998, the Brazilian death metal act arrives at Pulverised with a resume including two full-length recordings and multiple EPs.
Bassist Necrogoat comments, "We're really ravished to be signed with Pulverised Records, a label that really fits to our music in terms of ideological aspects and works professionally. We are sure this partnership will result in a tormenting sonic deliverance that will lead you all to a thunderous and malignant holocaust! The new album shall come in 2012, and we promise it will not disappoint! It will contain lots of good surprises on it, but with the same infamous essence we have become known for! We are really eager for this release! We are the BRAZILIAN BLACKEST METAL MASSACRE!"
Added Pulverised Records' A&R Manager Calvin Chiang: "Anyone with a knowledge of traditional Brazilian death metal will know most distinguishing quality: its rabid, unstoppable force of christ-bashing sonic blasphemy. Grave Desecrator is of course no exception and we believe the follow-up to (2012) Insult will definitely exceed our expectations. Grave Desecrator shall carry the burning flag of old school Brazilian death metal up high and be prepared for one of the most lethal death metal albums in 2012!"
Grave Desecrator is:
Butcherazor - Vocals / Guitars
Black Sin And Damnation - Guitars
Necrogoat - Bass
Slaughterer - Drums