Goregast
From: Germany
Last Known Status: Active
Latest Goregast News
Below is our complete Goregast news coverage, including columns and articles pertaining to the band. Some articles listed may be indirectly related, such as side projects of the band members, etc.
German grindcore artists Goregast are set to release "Covered in Skin," a 7-inch vinyl EP featuring two newly recorded songs, on September 27th via FDA Rekotz. Check out the teaser video below. The band's first recorded output since 2011's "Desechos Humanos," the tunes featured on "Covered in Skin" will serve as a taste of things to come when GOREGAST releases their fourth full-length album in the spring of 2014.
The EP was mixed and mastered by Andreas Hilbert (Golem) with cover artwork by Dedy (Badic Art). "Covered in Skin" will be limited to 500 copies with two editions being offered - a clear green edition with an embroidered Goregast patch and sticker (100 copies) and a funeral black edition (400 copies, shipped with sticker). T-shirt/vinyl bundles are also available. Pre-orders for Covered in Skin are now being taken at FDA Rekotz.
FDA Rekotz artist Goregast has issued an update from its headquarters in Berlin. Firstly, Goregast recently commissioned Dedy Badic from Badic Art to design a new logo (posted below) that reflected the band's return to its classic death metal roots. Badic is known for his illustrations for Skeletal Remains, Gruesome Stuff Relish and many others.
In early May, Goregast will play three dates with Swedish band Paganizer. The dates are posted below. After returning home from the three-day assault Goregast will enter Soundforge Studio in Berlin to record tracks for an upcoming 7-inch EP set for release in September on FDA Rekotz.
In 2011 GOREGAST released the full-length "Desechos Humanos" on FDA Rekotz. Album track "Honor the Dead" is streaming at this location.
GOREGAST Live:
May 8 - Leipzig @ Bandhaus w/ Paganizer
May 9 - Weimar @ SC Schützengasse w/ Paganizer
May 10 - Wolfsburg @ D-Place /w Paganizer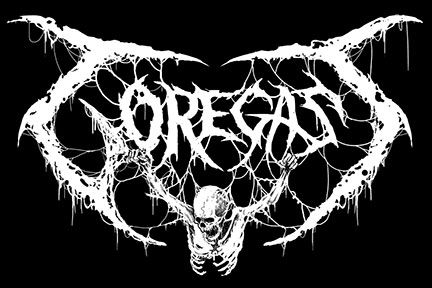 Germany's Goregast has issued the following announcement about the release of the band's new album:
"Yes guys finally we can announce the official 'Desechos Humanos' release date. It will be released through FDA Rekotz on the 9th day of September, 2011! Only a few weeks to wait and to get a really classic, brutal and morbid piece of death metal musick!"
The "Desechos Humanos " track listing is as follows:
1. Desechos Humanos
2. Puerco de Dinero
3. Honor the Dead
4. Corta la Coleta
5. Nice Guy Next Door
6. Necrophagic Pathologist
7. The Boozer
8. Capa
9. Unslave Yourself
10. Outro-bliteration