The Austrasian Goat
From: France
Last Known Status: Active
Latest The Austrasian Goat News
Below is our complete The Austrasian Goat news coverage, including columns and articles pertaining to the band. Some articles listed may be indirectly related, such as side projects of the band members, etc.
Hallowed Butchery has posted the song "Hexagram: The God of Self" online, which is available via Bandcamp or the player below. The one man band also commented on the track:
"My half of the recently released split with The Austrasian Goat ('Songs of Self Reliance and Solitude') is now available for digital purchase via BandCamp. $4.00 for an instant, high-quality download. Take a break from the Christmas music, and get a little wicked."
Hallowed Butchery has posted the cover artwork online for the band's upcoming split with The Austrasian Goat, which can be viewed below. Hallowed Butchery also commented on the split and an upcoming full-length album:
"A Choir of Dead Children Sing Their Hymn for a Sleeping God: This is the tentative title for the forthcoming full-length album. The concept has changed. The entire album will deal with child abuse, neglect, and murder. All proceeds will be donated to a charity for abused children. More details and a confirmed charity organization will available soon. A release date can be expected late 2011/early 2012.
"The split 10" with the Austrasian Goat should be available soon. There were some delays with mastering, and the girl who was supposed to do the artwork has disappeared. I will be taking over artwork duties. Screenprinted, metallic paper is in the works!!!
"Also in the works are a series of limited live performances. With a backing band, I will perform 'Funeral Rites for the Living' in its entirety. More details coming soon."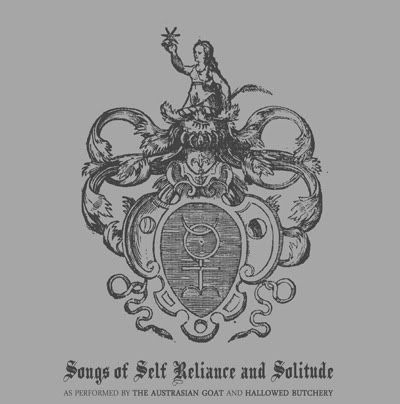 Hallowed Butchery has issued the following announcement about finishing a new track titled "Hexagram: The God of Self" for an upcoming split release:
"'Hexagram: The God of Self' (my side of the forthcoming Austrasian Goat split 10") has just finished being mastered. The song features guest guitar solos from Julien (of the Austrasian Goat) and Brad Bolduc (of Terrible Old Man).
"Expect sludge with buried vocals, Hawkwind-on-a-bad-acid-trip, good old fashioned rock 'n roll, a touch of folk, and a heavy heaping of psychedelia. A release date will be available soon."
You can also check out Metalunderground.com's latest interview with Hallowed Butchery at this location.